You have been invited to enroll in a 3-week Zoom webinar which will begin on Monday, December 6th, 2021 at 7:00 pm. The topic is the "Introduction To The Study Of The End Times" which will be taught by Bishop Dennis Golphin. This teaching will take the place of OLCC's Weekly Bible Studies for the month of December. You must register in advance to take this webinar.
To register, please click on the link below.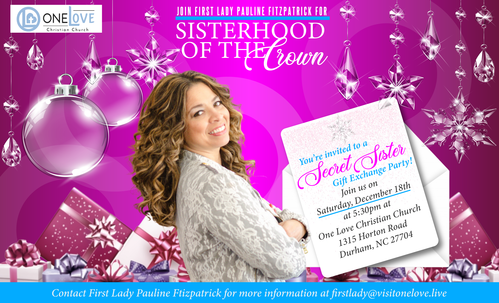 One Love Christian Church's Toy Giveaway!
To register for our Toy Giveaway, please click the button below.
For more information, contact Dietrich McMillan at 984-259-4522 or email outreach@visitonelove.live
We are looking for committed volunteers who would like to use their gifts and talents in various areas throughout the ministry. If you would like to volunteer, please contact our Church Administrator, Dr. Shelia Jordan via email at admin@visitonelove.live or call her at 984-259-4524
One Love Christian Church
is a non-denominational church located in Durham, North Carolina.
OLCC is place where people can experience the love of Christ and engage in life-giving community and fellowship with other believers while freely worshipping and maturing in the Word of God. While identifying and using their Godly gifts to advance God's Kingdom here on earth.
At OLCC, we believe in showing the Love of Christ.
Join us for our Sunday services in person or on
Facebook Live
or
YouTube
and for Bible Study on Wednesdays via Zoom!
Pastor John & First Lady Pauline Fitzpatrick Jr.